Yesterday was the book launch of Mother Stump, and I couldn't be more grateful. I am grateful for everyone who made it possible:
I am grateful for Anne Yale at Yak Press, the most kind, generous, astute, and supportive editor a person could ever ask for. She is no less than a Godsend.
I am grateful for All Saints Episcopal Church in Pasadena for generously hosting the event. All Saints was the first church that I felt welcomed in after a "breaking away" from a life of faith, and it is that place of refuge for many. It's a place where love and acceptance trump judgment. It's also a place where my mom and I attended several workshops and seminars together before she died, and so it has always felt like a place of grace, a place she had, somehow, prepared for me.
I am grateful to my fellow Native Blossom Series poets for showing up with poetry, love, scones, and tea sandwiches, and for paving the way and giving me my first home in the publishing world.
I am grateful to my friends and family, some of who traveled hundreds of miles to be there, and all of who humble me with their outpouring of love. We had a full house and had to pull out more chairs!
I am grateful to everyone who has supported me on this journey and believed in both me and the creative spirit within me (especially when I did not).
I am grateful for my "students," who are each more friend than student: Sarah, Janice, Chie, Robin, and Sheila, who all gave beautiful readings and testified to the power of poetry in their lives.
I am grateful for my father, who could not be there--who instead was flying out to Kentucky to be with his own father, possibly in his final days--who sent beautiful flowers in his absence, and with whom I have such an understanding that we both know how much love is present even across distance.
I am most specially grateful to my mother, who keeps showing me the arrows, and who showed me a love so fierce and so fundamental that losing her became a place of wild fertility in my life. The void she left became my path forward, and even (especially) in her absence she is an ever-present force of love and grace. Just last Wednesday, a hummingbird came and buzzed me--three times in a row. The first time it came up to about a foot in front of my face. Then it buzzed away, and I asked it to return, which it did, then flitted away. I said to it, "one more time?" and it zipped again from the tree where it was perched just in front of my face and on to another tree. That kind of love is extravagant. That kind of love is a grace.
Finally, I am grateful for baby Adeline, who knows what it really means to consume poetry. Her book was the best one I signed all day.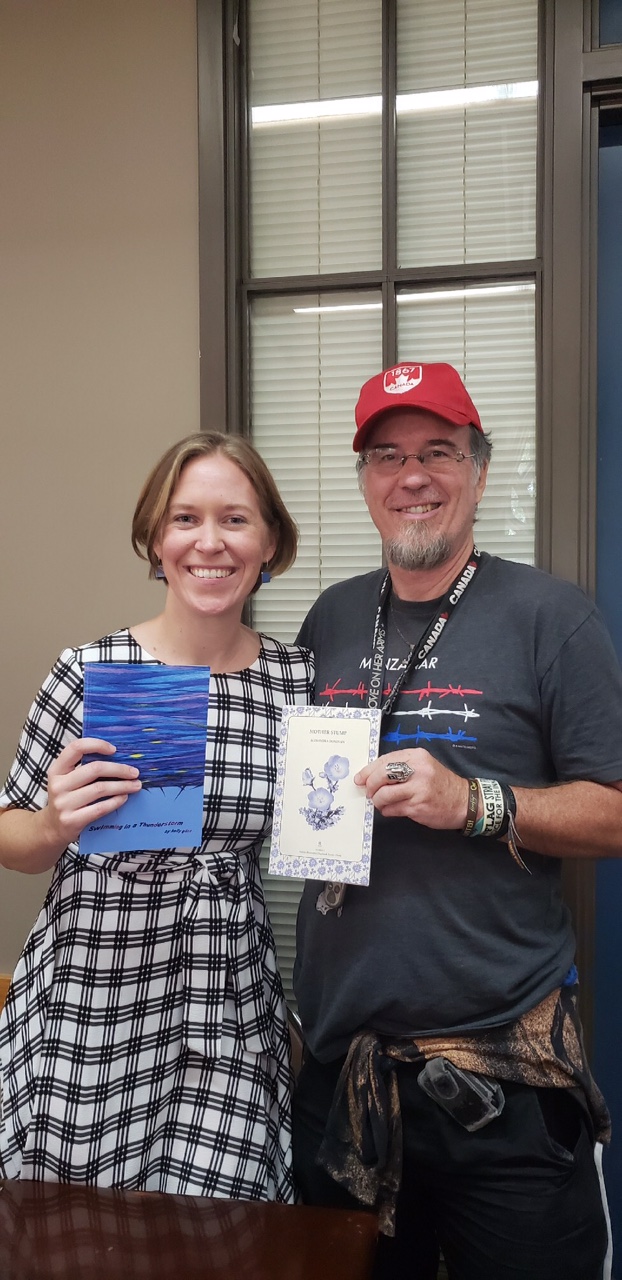 P.S. If anyone wants the recipe for the chocolate-covered cheesecake bites, you can find it here!